PATREON DECIDES: How I Plan for the New Year
Patreon Decides is an installment/series on Fictionally Sam, where each month I hand over decision rights to my Patrons to pick a post topic of their choosing for me to write on.
2020 Planning has begun.
Happy last Monday of the decade storytellers! This month my patrons chose a super odd ball topic for me to discuss here on the blog, which honestly stumped me, because I don't typically write about my planning life. I kind of just…do it. But there is always a first for everything, and today my patrons over on my Visual Storyteller tier chose for me to discuss how I plan for the new year. So grab your planners, munch on that popcorn, and waddle to your favorite set of color coded pens, and let's get organized!
Calendars / Planners
I am lost without my planner. Literally my entire life is written into this mass produced calendar that some people I know call it my journal–simply because I put everything into it. From special dates, events, book and movie releases, all the way down to daily things to do. Everything gets shucked into my planner.
In 2019, I decided to switch things up and try my hand at the Happy Planners system, because 1) everyone and their mom was recommending them to me, and 2) they are aesthetically pleasing to the eyes. However, midway through the year I stopped using it because the way they have the calendar set up felt more a bullet journal than a pre-made planner. I also stopped using this planner because it was hella chunky and barely could fit in my tote purse; to which I really needed it to fit because again–my entire life is in that planner.
Because of this I resorted to using my good old iCalendar on my phone, to which I had a love hate relationship with because ya girl likes to make notes within the notes and in order to do that–I need to physically write it out…and color code.
I know I am extra.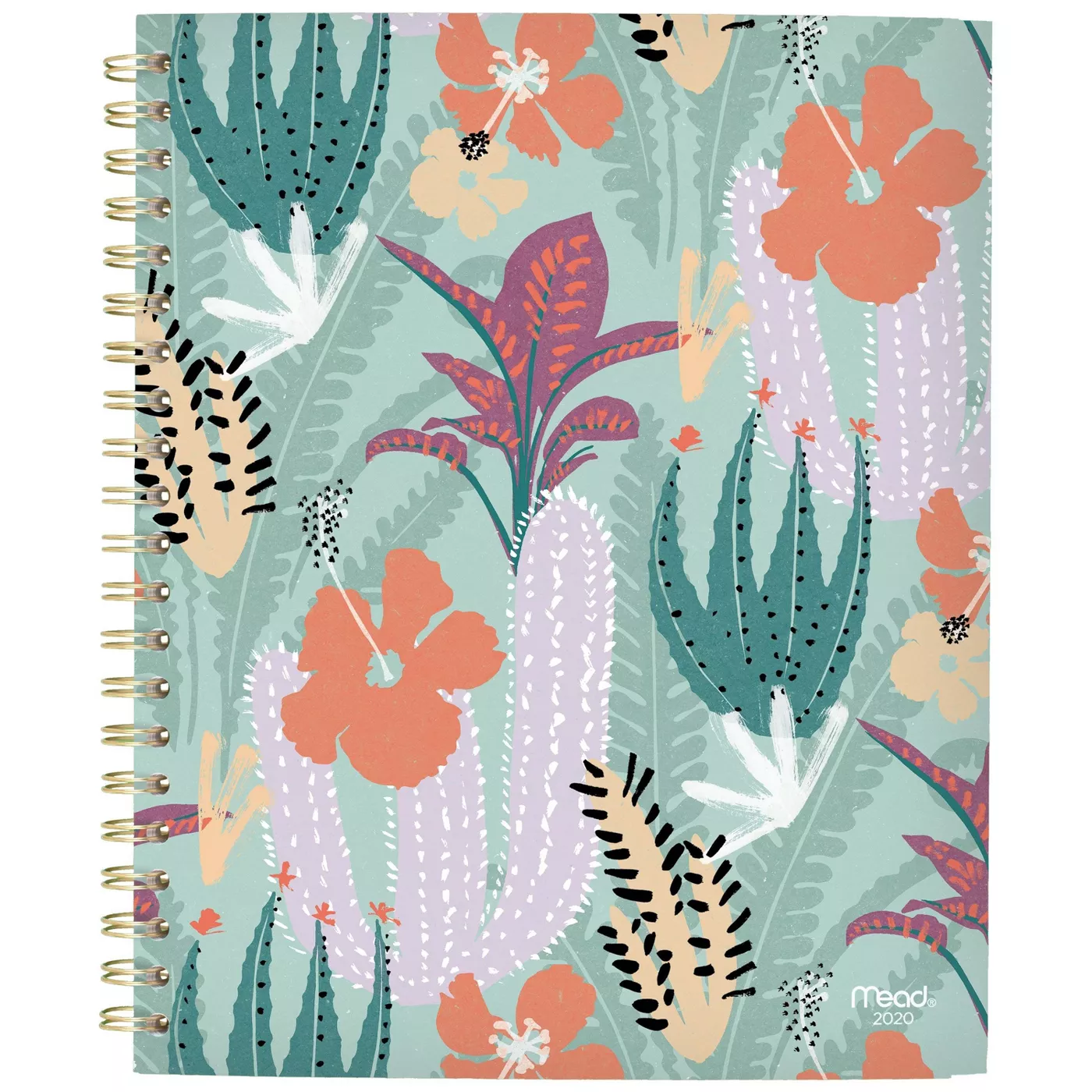 So since I knew I wasn't going to be trying my hand at the Happy Calendar again; I decided to just go back to the basics and waddle my butt over to Target. After a 45 minute pow-wow (I'm not joking when I tell you I am super picky at choosing my calendars/planners) in the planner aisle, I waddled home with my new Mead 2020 planner! It's simplistic, thin, and most of all–pre-dated! All I have to do is waddle through and enter in my dates and random things that I think of, and boom! All set!
What makes the perfect planner
One of the major things I look for in a planner and is a huge deal breaker one whether or not I make the purchase or not is how the planner does their lines. I need a planner that is blank and has wide enough squares on their monthly spread, but is lined and minimalist in their weekly spread. This request sounds super easy right? Nope. You wouldn't believe how many planners are either lined or nothing at all. Which is the main cause of me taking so long to find a stinking planner. I need all my boxes checked off or else I'm not going to use the planner and it will have been a waste of money.
And we all know Sam does not like to waste money.
The things I look for in a planner are actually pretty simple (at least to me):
Monthly spread blank, with weekly lined
Must be able to fit into my tote purse and/or backpack purse (she gotta be slim)
Pretty cover (must invoke inspiration to actually use the thing)
the squares in the monthly spread must be big enough to hold multiple events/entries
Months are tabbed off for easy flipping/access
Pages have to be thick enough where I can't see the next page, and minimal ghosting.
That's it! Those are my criteria for a planner, and luckily this Mead planner fits the bill with each and every box on my list.
Bullet Journal
I have had a love/hate relationship with bullet journals. Love because they are unbelievably satisfying to look at and can hold everything and anything you want. Hate, because well…I'm hella lazy and after the first three months of making spreads and making things pretty–I don't want to anymore.
I began 2019 doing the bullet journal system alongside my happy planner; but just like with the happy planner–I got really lazy and I just didn't have the energy to make my bujo look–nice. And as we all know from my checklist for the planner, if it doesn't invoke inspiration, I'm not going to use it. So after February of this year, I stopped doing the whole spread thing, and just waddled it down to the bujo's most fundamental functions. Gone were the habit trackers, monthly and weekly spreads, and other random spreads I thought were super cute but ended up not using at all.
Bullet Journal…or Junk Journal?
I was so excited for my bullet journal journey that I went and bought the Leuchtturm 1917 bullet journal in powder blue (which was stupid expensive for a notebook, and I have many regrets on that front); but because of what I mentioned before, I ended up ditching the bujo ways altogether. However, I was determined to get my money's worth out of this notebook and actually use it. So what ended up happening was I just used the notebook for keeping track of my monthly reads; and all the other junk that came to my mind throughout the days.
It slowly became my junk journal, and I actually love it. Whatever I couldn't stick in my planner (or iCalendar) I stuck in the notebook. From WIP ideas, song lyrics that are stuck in my head, to my to-do lists for the day or week. It was all thrown into the journal.
For 2020, I decided to keep the Junk Journal motif going; as I have come to learn that even though bujos are exceedingly beautiful and I admire them–they just aren't for me. With that said, my 2020 "junk journal" will continue some traditions of the bullet journal; but won't be a normal bullet journal in the sense of the structure and constant set-up.
Some of the spreads I have planned to incorporate from the bullet journal life:
2020 welcome spread (see picture above)
20 in 2020 (new years resolutions/ goals)
Updated ARC Mountain spread
And this is where we start to deviate from the traditional bullet journal and enter into junk journal territory. Monthly spreads, aren't a thing in my world/journal. Instead, each month I plan to start off with the new month's TBR (which is super suggestive because I have never completed a TBR I set out to do in my entire life); and then following that with a list of books read during the month and their star ratings. I have also decided to take a stab at recording the music I am loving that month; as well as the movies and shows I am watching. Everything that comes after those four spreads, are whatever I need them to be in that moment.
And that is how I plan my new year! I am super excited to finish up entering in all my anticipated releases; and really nailing what I want to accomplish in the new year as a new decade approaches. If you'd like to see my spreads and planner after I'm finished; be sure to follow me on Instagram and check my stories! I'll be sharing my finished junk journal spreads there as well as some inside looks on how I color code my planner!
Goodreads Twitter Instagram Pinterest Facebook
---
Love my content?
You can get EVEN MORE content + support my blog by joining my Patreon! If you want to take the magic of storytelling to the next level and connect with me personally, come see what I've created for you on Patreon.