The Television Tag || Shows I'm trash for
Finally it is Friday and I am slowly becoming a human/non-zombie again! Just like previously I had something planned for today's TV Friday but because I was in and out of consciousness this entire week and weekend I didn't get a chance to get the post in a position where I would be comfortable sharing it with all of you. So what are we gonna do? We are gonna do a tag.
God save the Queen and God save the tag.
I found this tag on Kayley Hyde's Channel on YouTube and thought it could easily be adapted to the Blogging world and as I am a self-proclaimed TV junkie, I thought it would be super fun to do! Now,  if it turns out that this tag has already been adapted to Blogs and I am just super late to the party–which lets be honest, is most of the time– then we are going to go on with life as if nothing happened and I just joined the band wagon of fun. yeah? Yeah. 

1. Favorite shows?
I have so many! I love the Star Trek franchise, Battlestar Galactica, Bones, Doctor Who, Chicago: Fire, Outlander, Queer Eye, Project Runway, Roswell, Friends, America's Next Top Model, Arrow, The Vampire Diaries (earlier seasons), and The Crown just to name a few!
2. Favorite genre?
I have a wide variety of genres I like but if you think about them they all could be considered sub-genres underneath a big umbrella. The umbrella being: drama.
I am smitten with Drama, I majored in drama. I live and breathe drama.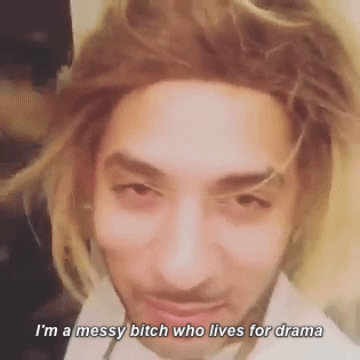 3. Least favourite show?
I think the show I least care for would have to be Chicago: PD.
I will watch it if, the network is doing a Chicago crossover night, but other than that I don't really care for the storyline there nor the characters.
4. Most re-watched show/favourite show to binge watch?
The show I probably have re-watched the most is Star Trek: Voyager, just because I have been watching this show all my life as it's my moms favorite installment in the franchise. A time.
My favorite show to binge however is probably Friends or How I Met Your Mother. I have been known to keep those on rotate at night to help me relax after a long day.
5. Do you prefer watching things week-by-week or binge-watching?
I like both! I tend to dig week by week more though, just because it gives me something to look forward to in the future and it makes sure I'm not a coach potato all day, but hot damn if an episode leaves off on a cliff hanger– I want to binge the crap out of the show. I really hate being left in suspense and not knowing things; so if I am given the chance to binge, then hello couch here comes potato!
6. Favorite television characters?
Claire from Outlander is a top one because she is literally a queen and gives no shit what people say she can and cannot do. Tatiana Maslaney as all the clones on Orphan Black, Benedict Cumberbatch as Sherlock, and I am also pretty smitten with all of the Doctors we've had so far, especially Jodi Whittaker's Doctor. A 10/10.
7. Favorite television ships?
Booth and Bones (Bones)
Jamie and Claire (Outlander)
Iris and Barry (The Flash)
Olivia and Fitz (Scandal)
Kat and Adena (The Bold Type)
Betty and Jughead (Riverdale)
Damon and Elena (The Vampire Diaries)
Athena and Helo (Battlestar Galactica)
Barney and Robyn (How I Met Your Mother)
Jane and Rafael (Jane the Virgin)
Toni and Cheryl (Riverdale)
8. Show you could never get into?
Game of Thrones. Sorry but I just didn't get the hype and I could honestly care less about everyone in the show except Daenerys.
The 100 is also in the category of a show I could just never get into. There was just so much hype around it that I tried twice to get into it, but every time I got to episode 5 of the first season and quit. I honestly, could not connect with the characters at all or really get into the storyline for that matter, which sucks because it sounds like it would have been a time and a half.
9. Show you fell out of love with?
Station 19. It was really good up until the beginning of this current season. They ended the previous season on this huge cliffhanger and I was hooked–but when this season picked up where the last left off…it was trash (and not the good trash), everything felt inorganic– like the writers put themselves in a whole they couldn't come out from so they threw together some shitty resolution with a fuck ton of dues ex machina.
Long story short–the show got hella dumb.
10. Cancelled too soon?
FIREFLY. I WILL GO DOWN ON THIS HILL.
11. Guilty pleasure show?
Y'all are about to judge my life, but don't say I didn't warn you. My favorite guilty pleasure show is The Bachelor/ The Bachelorette. Y'all….this show is trash…but I too am trash. Every episode is a time in a half, and I honestly am here for the comedic relief that Bachelor Nation gives on Twitter every Monday night.
How could you not be here for this "quality" content? 😂😂
"I'm takin the dog. Dumbass." #thebachelor pic.twitter.com/oipUSzAkwp

— TayKeel (@tayyk13) January 8, 2019
12. What are you currently watching?
HA! The real question is what shows am I not currently watching. But if you insist, here is a list of the all the shows I am watching.
Buffy: The Vampire Slayer (Hulu)
3% (Netflix)
Chicago: Fire (NBC)
The Bachelor (ABC)
Outlander (Starz)
Brooklyn Nine-Nine (Fox/Hulu)
Santa Clarita Diet (Netflix)
Doctor Who (BBC America)
New Amsterdam (NBC)
NOTE: there is totally more shows than this, but this is what I can remember at the moment.
TAGGED:
Michelle @ Michelle Likes Things | Jamsu @ Jamsu Dreams | Clo @ Book Dragons | Destiny @ Howling Libraries | Camilla @ Reader in The Attic | Lisa @ Lili Star Reads | Becky @ Uptown Oracle | Jayati @ Just A Coffee Addicted Bibliophile | Cat @ Pages & Plots | Lindsay @ Singer of Stories | Christina @ Christina's Bookescapes | Sepia @ Sepia Reads | Isabelle @ Bookwyrm Bites