Mini Reviews Monday #2

Well its been a hot minute since I've been around here! Sorry for my disappearance but I wasn't in a good head space and needed some time to work on me; but I am back and better than ever, and I am so excited to get back to talking about the stories that I've come across!
During my hiatus, I have read a lot–some good, some not so good– and with the read pile growing taller, I realized I am super behind on a lot of my reviews! So I thought another MRM was due!

A Court of Frost and Starlight by Sarah J. Maas
"Hope warms the coldest night.
Feyre, Rhys, and their close-knit circle of friends are still busy rebuilding the Night Court and the vastly-changed world beyond. But Winter Solstice is finally near, and with it, a hard-earned reprieve.
Yet even the festive atmosphere can't keep the shadows of the past from looming. As Feyre navigates her first Winter Solstice as High Lady, she finds that those dearest to her have more wounds than she anticipated–scars that will have far-reaching impact on the future of their Court." — Goodreads Synopsis
This book is the novella following the aftermath of what happened in the final ACOTAR book, A Court of Wings and Ruin. This was one of my most anticipated releases for 2018, just because I love the series and honestly didn't want the story to end because I felt like a lot of things went unfinished/poorly tied up in the last installment–so I was hoping that this novella would be somewhat of a redemption for the series…and I was wrong. Don't be fooled, I loved the story, it was short sweet and cute and I FINALLY got my wall scene, which lived up to everything I wanted. But that was it. The characters felt different and I felt like the constant switching from first person to third person with each different character POV was pulling me out of the story instead of drawing me in and to be brutally honest…kind of lazy?
I honestly didn't care for most of what was happening until the very end of novella. Initially I did give the story 5/5 stars on Goodreads because I was on a wall scene high, but after a while and thinking about it, I've changed my rating to 3.5/5 stars because of the flipping back and forth between first and third person and how bored I was.
Rating: 
.5
My So-Called Bollywood Life by Nisha Sharma [ARC]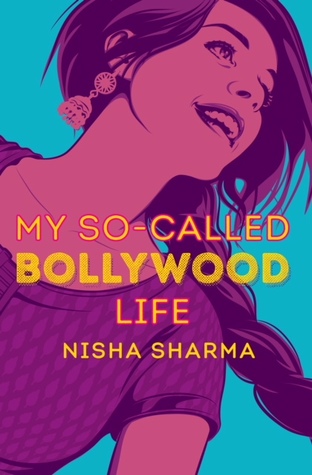 "Winnie Mehta was never really convinced that Raj was her soulmate, but their love was written in the stars. Literally, a pandit predicted Winnie would find the love of her life before her 18th birthday, and Raj meets all of the qualifications. Which is why Winnie is shocked to return from her summer at film camp to find her boyfriend of three years hooking up with Jenny Dickens. Worse, Raj is crowned chair of the student film festival, a spot Winnie was counting on for her film school applications. As a self-proclaimed Bollywood expert, Winnie knows this is not how her perfect ending is scripted.
Then there's Dev, a fellow film geek, and one of the few people Winnie can count on to help her reclaim control of her story. Dev is smart charming, and challenges Winnie to look beyond her horoscope to find someone she'd pick for herself. But does falling for Dev mean giving up on her prophecy, and her chance to live happily ever after? To get her Bollywood-like life on track, Winnie will need a little bit of help from fate, family, and of course, a Bollywood movie star.
Like an expertly choreographed Bollywood dance scene, Nisha Sharma's off-beat love story dazzles in the lime light."– Goodreads Synopsis 
I really enjoyed this story. I felt like it was such a cute contemporary and nicely written that I almost wasn't able to put it down. I related so much to Winnie with the sole fact that I too am obsessed with films and wanted to major in film studies when I went to College–so it was really nice to see that aspect of my life in a book as well as share that love with a main character. I loved how Winnie introduces us to different Bollywood movies and does it in a way that doesn't make the readers feel stupid or dumb if they don't understand all of the references. I found myself, throughout my time reading the novel, jotting down some of the movie titles to watch later!
I did sometimes feel like the main character, Winnie, was super extra and blew a lot of things out of proportion when she is supposedly 18 and about to graduate high school and not middle school; however the dream sequence of Shah Rukh Khan made up for it by making my Bollywood-loving heart squeal. I also didn't like how almost predictable the story got the further I read and how stereotypical the side characters started to feel like, for example Raj's new girlfriend who evidently is so easily jealous that she feels the need to be a bitch in order to "stake claim", lest Raj leave her.
All in all, I felt like it was a super cute read and I totally did enjoy myself while reading it.
Rating: 
.5
The Witch Doesn't Burn In This One by Amanda Lovelace
"2016 Goodreads Choice Award-winning poet Amanda Lovelace returns in the witch doesn't burn in this one — the bold second book in her "women are some kind of magic" series.
The witch: supernaturally powerful, inscrutably independent, and now—indestructible. These moving, relatable poems encourage resilience and embolden women to take control of their own stories. Enemies try to judge, oppress, and marginalize her, but the witch doesn't burn in this one."– Goodreads Synopsis
Was this collection better than The Princess Saves Herself In This One? No. But, was it still impeccable? Hell yes.
I absolutely adored this collection, I found myself relating to a lot of what she was referencing and some of her struggles I could definitely identify myself within it. There were some poems that I couldn't connect with or I didn't understand, but I did appreciate them in the context of how they were written; but more often than not, I was tabbing and highlighting 98% of this collection.
Rating: 
Jock Row by Sara Ney
"Scarlett is always the sensible one: The sober driver. The planner. The one holding your hair back while you're worshiping the porcelain gods.
Week-after-week, she visits Jock Row with her friends—the universities hottest party scene and breeding ground for student athletes. And if keeping her friends out of trouble, and guys out of their pants, was a sport, she'd be the star athlete.
Being a well known jock-blocker gets her noticed for all the wrong reasons; just like that, she's banned from Jock Row. NO GUY WANTS A GIRL AROUND WHO KEEPS THEIR JOCK FRIENDS FROM GETTING LAID.
"Rowdy" Wade is the hot shot short-stop for the universities baseball team—and the unlucky bastard who drew the short straw: keep little Miss Goody Two-Shoes out of the Baseball House.
But week-after-week Scarlett returns, determined to get inside. " —Goodreads Synopsis
I had so much fun reading this story! You guys know I am a sucker for a good sports romance, and this one was a really good sports romance! I loved the characters, and I loved how different the plot was to other new adult sports romances. It was fun, flirty, and had me giggling like a school girl almost the entire time! Scarlett is super relatable and sassy and you instantly fall in love with her from the moment the book begins. The only thing I wished this story had, was some conflict and that is solely because I live for drama and wanted the tea; however, the author did state that this novel was a "feel good" story, and I can respect that and put my tea obsession aside just this once.
Rating: